PageScope Mobile for iPhone/iPad
The PageScope Mobile Application will change your work style in no time at all. With the clever Application, Konica Minolta multifunctionals can be conveniently connected to Apple's iPhone, iPad,

and iPod touch. Essentially offering two important functions, namely printing and scanning, the PageScope Mobile Application lets you browse, read and order prints of your documents, emails and photos. Likewise, you can load data scanned via a bizhub system.
Don't hesitate to download the handy PageScope Mobile Application, which is available free of

charge in the App Store. Your work will soon benefit from enhanced mobility and an attractive overall productivity increase.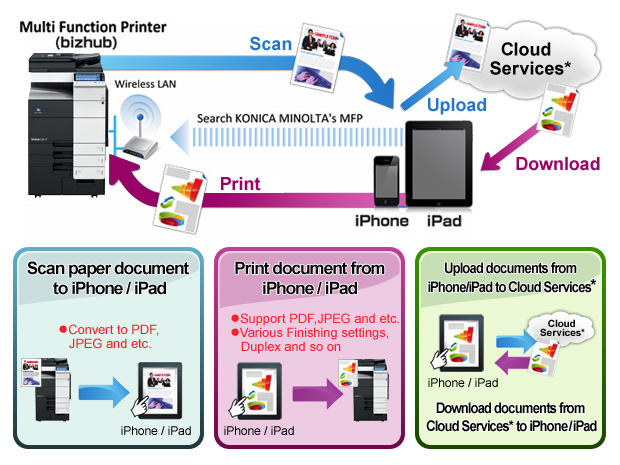 Compatible devices
Color
bizhub C754/C654
bizhub C652/C552/C452
bizhub C652DS/C552DS
bizhub C650/C550/C451
bizhub C554/C454/C364/C284/C224
bizhub C360/C280/C220
bizhub C353/C253/C203
bizhub C35
B&W
bizhub 751/601
bizhub 652/602/552/502
bizhub 423/363/283/223
bizhub 501/421/361
bizhub 42/36
Features
Printing and scanning via Wi-Fi
Ordering prints of PDF, TIFF, JPEG, XPS, PNG, BMP, GIF and OpenXML(docx, xlsx, pptx)(bizhub C754/654 only) files on Konica Minolta multi-functional peripherals
Ordering prints of emails and attached documents on Konica Minolta output devices
Printing of photos on a Konica Minolta system
Easy managing of documents via "My Documents":
Preview and print files
Receive scans from the Konica Minolta system
Save email attachements into My Documents
Convenient web browsing and printing of the web browsing screen
Automatic and flexible discovery of Konica Minolta devices
Benefits
Helps business users innovate their work style
Provides enhanced flexibility to utilise business documents more creatively, at any time, and in any place
Facilitates taking advantage of extended mobility with the iPhone, iPad, iPod touch
Attractive productivity enhancement
Using the iPhone or iPad version of the app.
During meetings, smartphones snap photos of ideas sketched on a whiteboard and print them on the spot or share them with other smartphones. Everyone participates in sharing the same ideas.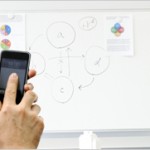 Print documents and share information with team members. Handwritten notes can be scanned on the spot and shared with everyone. Print information and bring it to clients. Information can be shared as a handout or integrated as part of a presentation on an iPad.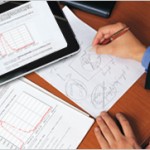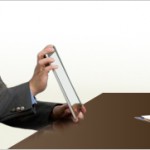 In the future
In the near future, we aim to provide highly valuable services through technological innovation by integrating MFPs/printers, computers, mobile devices and cloud services. Together, these technologies will help establish secure and flexible workflows.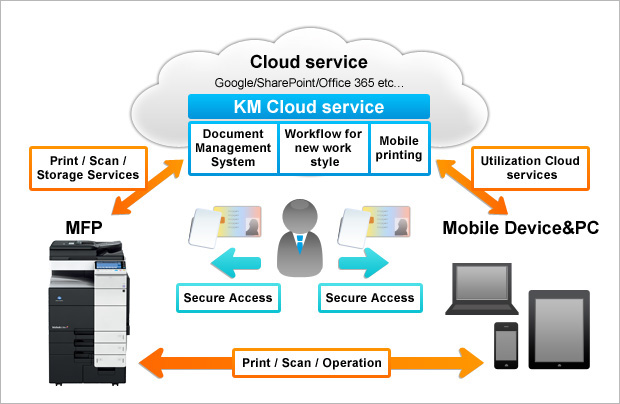 Apple, the Apple logo, iCloud, the iCloud logo, iPhone, iPod touch, and iTunes are trademarks of Apple Inc., registered in the U.S. and other countries. iPad is a trademark of Apple Inc. App Store is a service mark of Apple Inc.
Evernote is a registered trademark or trademark of Evernote Corporation.
Dropbox is a trademark or registered trademark of Dropbox Inc.
Wi-Fi is a registered trademark of Wi-Fi Alliance®
Google and Google Docs are trademarks or registered trademarks of Google Inc. in the U.S. and other countries.
Office 365 and SharePoint are a registered trademark or trademark of Microsoft corporation in the U.S. and other countries.
All other brand and product names are registered trademarks or trademarks of their respective owners.